You are here: Home / Introduction / Basic setup
Basic setup
With the basic equipment the basis for the simple and fast working is put, as well as the data around imprint / signature, revocation and GDPR is deposited.
Basic settings
The largest part is carried out in the basic settings. Please open in the menu Extras >> Settings >> Basic settings. Here you will find the tabs listed below. Besides there are further tabs, you can find an explanation to all of them in the settings
Basic data
It is possible that you have already been informed in various places that the basic data must be completed. In addition to the legal aspects, there are some places where this data is used, so it will be discussed again here.
If, for example, no contact person is used for a property, the contact data from the basic data is named in brochures or transferred to the portal.
The basic data is also copied to new users when they are created.
The basic data is also used for the standard signature for emails.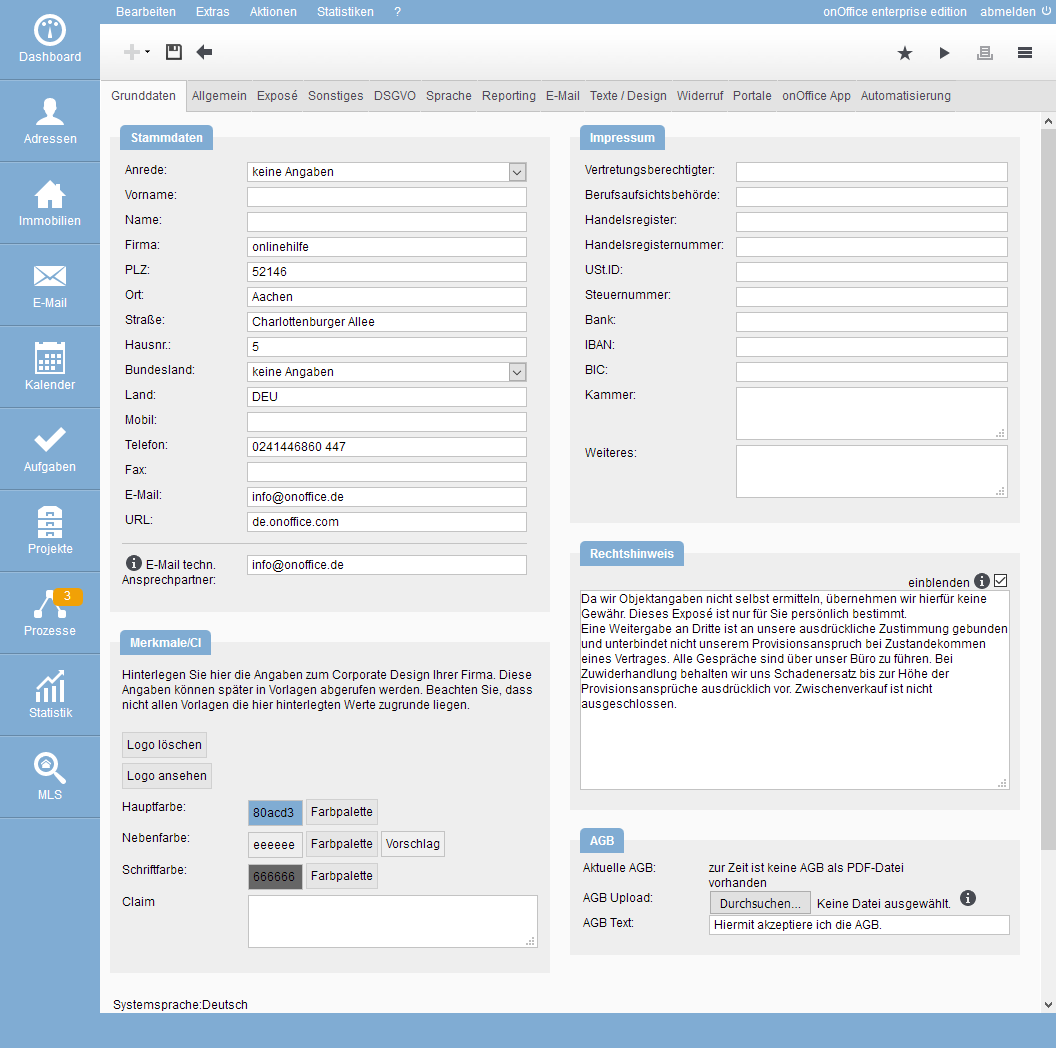 Master data / Imprint
Please enter the relevant data here.
Features / CI
In order to make your communication even more individual, you have the option of storing your company logo and colors here. 
Deposit legal notice
The legal notice entered here can be displayed in the brochures and can also be integrated into any desired template via the _mdtrechtshinweis macro.
Here you have the possibility to upload your GENERAL TERMS AND CONDITIONS´s as a PDF document. These GENERAL TERMS AND CONDITIONS are used then with the address completion, revocation etc.. For the revocation you can configure further settings for the terms and conditions
Revocation
GDPR
Email
Portals
Templates
enterprise contains sample templates for the most important emails and letters as well as brochures. You can adapt them to your needs.
You customize the Word format brochures according to your ideas – easily understandable instructions support you. With the PDFdesigner you can also create your own PDF brochures.
Adaptations to templates and brochures by onOffice are possible for a fee, please contact your sales contact.
Browser?
onOffice also programs browsers? No, we are the real estate specialists.
However, the browser is your working device with which you use onOffice enterprise edition – exceptions are the users of the apps .
onOffice enterprise edition uses popups, therefore an exception for onOffice must be added in the settings for popups or it must be generally allowed.
In the manual of your browser the handling of popups is explained. For the most important browsers you will find a short manual here.